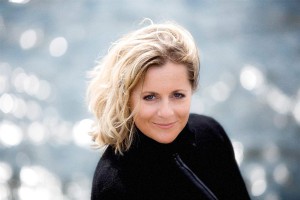 Gunilla was born in Stockholm, Sweden. She studied at the Adolf Fredrik's Music School in Stockholm and has thirteen years of classical ballet training with the Swedish opera and the Cullberg Ballet company.
Since 17 years of age she has studied singing for Vivian Burman i Stockholm. In 1982 she played her first role on stage as Liesl in "The Sound of Music". Numerous roles followed until 1990 when she was cast as Cosette in the Cameron Mackintosh's Swedish production of "Les Miserables" at the Circus Theatre. This was followed by "West Side Story", where she played the role of Maria. Other work with the National Theatre and the Royal Dramatic Theatre include, "Elvira Madigan" and "The Winter's Tale", directed by Ingmar Bergman. She has also been a soloist with the Halle Orchestra. Gunilla moved to Germany in 1996 to play in "Sunset Boulevard" followed by a return to "Les Miserables" this time in the role of Fantine.
Gunilla's West End debut was as Ellen in "Miss Saigon" at the Theatre Royal, Drury Lane. She then joined the London production of "Les Miserables" once again playing Fantine. She performed at the London Palladium in a tribute to Fred Astaire, which is now available on CD. Gunilla played the role of Svetlana in the musical "Chess" in Denmark.
In 2002 she opened the world premiere of "Garbo the Musical" in the leading role of Greta Garbo. Music by Jim Steinman and Michael Reed. 2005-2007 she has played Donna in the Swedish production of "Mamma Mia!" where she won an award for "Best leading actress in a musical". There is also a CD-recording of the Swedish production of the show. After followed a tour with "ABBA Original Orchestra", concerts with "Best of Andrew Lloyd Webber", "Rhapsody in Rock"-tour in which she also participated in 2005. Numerous TV-appearances, and concerts with Royal Philharmonic Orchestra and Swedish Radio Symphony Orchestra among others.
She recorded a solo album "Nära mig", and did a solo show touring in all of Sweden with the National Theatre. Gunilla has dubbed numerous musical film scores into Swedish, including Don Bluth's "Thumbelina" when she sang the title role. Other recordings include the original Swedish cast album of "Les Miserables", collection of four children's CDs and the Danish cast album of "Chess".
Gunilla did a show together with the girls playing the friends of the leading character "Donna" in the musical "Mamma Mia!" cast in Stockholm (where Gunilla played Donna). The show was called "Prima Donnor" and were played at the historic Hamburger Börs in Stockholm spring and autumn -09.
In November 2009 Gunilla became a mother to her first child, a son named Leonardo.
In 2010-11 she played Norma Desmond in A L Webbers "Sunset Blvd" at the Gothenburg Opera, with great reviews and she won a Swedish musical theatre award for her performance. She also recorded an album with the Gothenburg Opera orchestra, titled "Gunilla Backman sings Andrew Lloyd Webber". Three of the tracks were recorded with the Swedish pianist Anders Widmark.
2012 Gunilla played "Maria Magdalena" in Jesus Christ Superstar in Stockholm, and after that she played "Desiree Armfeldt"  in A little Night Music at the Malmö Opera from which she received wonderful  reviews. Tours and concerts have followed 2013, among them, "You, I like" with Niklas Riesbeck. "I love musicals" arena tour with Peter Jöback.
In the spring of-14 we did a tour of "Jesus Christ Superstar". I did a role in  a film, "Beck", a Swedish thriller and Florence in "Chess in concert".
Other musical theatre concerts follows in oktober in Berwaldhallen in Stockholm. Concert in New Delhi and Chistmas concert in Malmö together with Carola.
Gunilla created together with pianist Joakim Holgersson a tribute to Barbra Streisand, singing her songs and talking about Streisands life.
They did seven sold out concerts at Stockholms Stadsteater and a tour in Sweden in the spring of 2016.
2016 Gunilla plays Jaqueline in "La Cage Aux Folles" at Uppsala Stadsteater. She sings in a gala-show at New Years eve at Malmö Opera, and Trettondagskonsert with Västerås sinfonietta with Fred Johansson conducted by Anders Berglund.
Also a big concert, tribute to Barbra Streisand with Swedish Radio Symphony orchestra in Berwaldhallen conducted by Anders Berglund, also broadcasted in Radio.
In the autumn of 2017 Gunilla plays in her first straight play called Marjorie Prime, Prima Liv in Swedish at Playhouse teater in Stockholm. The role of Tess. Together with Per Graffman, Britt-Louise Tillbom and Björn Lönner. With great reviews.
Gunilla sings at the televised New Years celebration at Skansen in Stockholm,2017.
During autumn of 2018 she is preforming with Peter Jöback in his soloshow "Med hjärtat som insats" at Cirkus theatre in Stockholm followed by a childrensmusical "Djunglebook".
Autumn 2021 she is the Abbess in "The Sound of Music" and also on tour with Björn & Benny tribute "Thank you for the music"